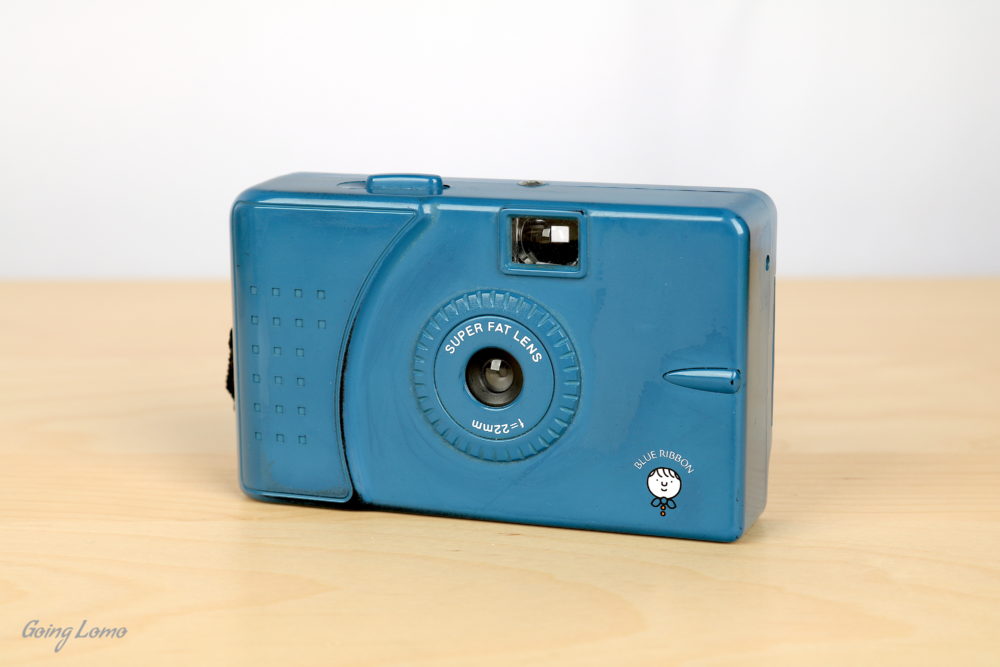 Camera Specs
type: toy camera; point & shoot
film format: 35mm
shutter speed: 1/125 second
aperture: f/11
weight: 75g[1]

It's interesting to note that the RETO UWS is listed as weighing 68.8g. Could the Superheadz rubberized coating really add 6.2g more weight?

dimensions: 100mm (W) x 58mm (H) x 26mm (D)[2]

Compared to the RETO UWS, the Superheadz is slightly smaller. However, the difference is neglible (the RETO measures 100mm x 59mm x 28mm) and I attribute this to a margin of error in measuring.
Lens Specs
22mm (ultra wide angle)
2 elements
fixed focus ≈1.2m to infinity[3]The Superheadz manual contradicts itself by stating that when taking pictures "the object is to be at least 1.5m away".[4]

RETO claims their UWS focuses from ≈1m to inifinity. The difference is not neglible, but it's the same camera and the focusing distance was always an approximation.

plastic (acrylic)
soft in the corners with vignetting
In case you haven't heard,
RETO
recently announced that they are (re)releasing the
Ultra Wide & Slim
camera
[5]
You can view a short video of the UWS on RETO's Instagram feed.
. After reading the recent coverage by
Emulsive
and
Kosmo Foto
, I decided that I need to share my review of this iconic little camera.
This is one of my favourite cameras and I take it with me wherever I go. It's the perfect travel companion. Lightweight and pocketable with consistent results even when you least expect it, the Ultra Wide and Slim has won my heart and earned its status as a cult favourite.
It all began with the original Vivitar Ultra Wide & Slim: a simple point & shoot camera made almost entirely out of plastic. Sporting a 2-element, 22mm ultra-wide lens, the UWS is renowned for its lens flare, the kind that only a plastic lens could create. And yet it is because of the lens that this camera has earned its cult status. The ultra-wide lens produces surprisingly good photos that are soft in the corners with classic toy camera vignetting.
The only serious drawback to this camera, apart from its lack of availability and hefty price tag — I've seen the UWS listed on eBay for as much as $250 — is its notoriously weak film advance that can often break when too much pressure is applied while advancing those last frames on a 36-exposure roll of film. It is highly recommended that you only shoot 24-exposure rolls in order to avoid breaking this camera.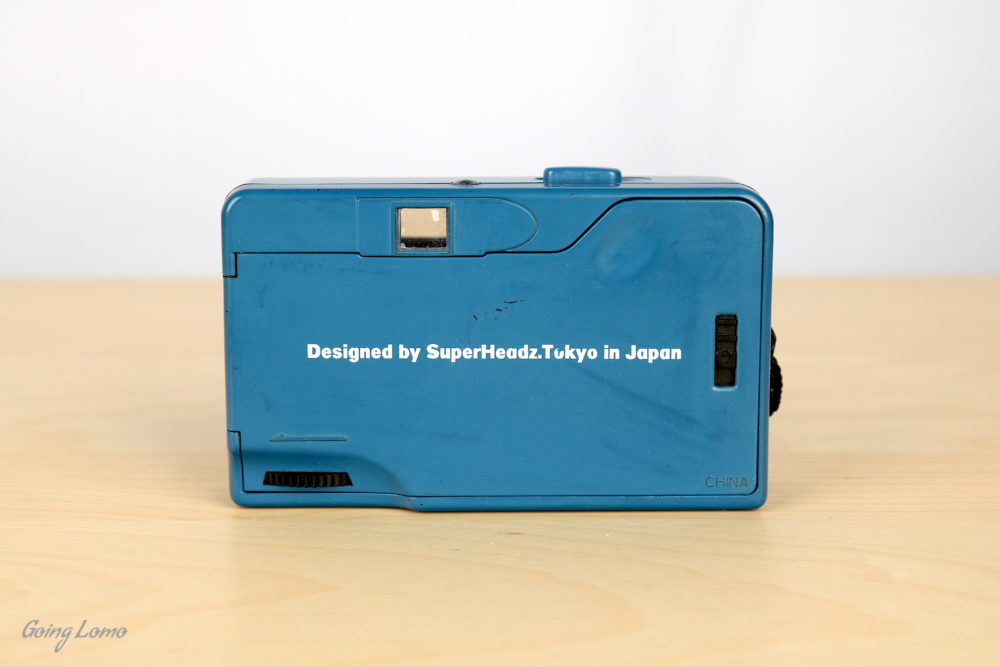 While Vivitar no longer sells the Ultra Wide & Slim, this camera has been reborn many times over as the:
Each and every Ultra Wide & Slim mentioned above is the same. Apart from colour, they all look and function identically. They are in fact the same camera manufactured by Sunpet Industries Limited[6]If you wish to market your own branded Ultra Wide & Slim, you can find the camera on Sunpet's website and in their catalogue. Just ask for it by name: item #246. UPDATE: Sunpet has recently removed the UWS from their website, but it still appears in their catalogue.. If you read the back of a Superheadz UWS, you will notice that it says "Designed by Superheadz.Tokyo in Japan", but do not be fooled by this. Superheadz did not design the Ultra Wide & Slim. They only chose the colours and designed the packaging for their release. The camera itself is identical to every other Ultra Wide & Slim made by Sunpet. Besides, you can't claim to design a camera that is identical to an older camera. The Vivitar Ultra Wide & Slim predates the Superheadz redub.
And to this grand lineage we now add the new RETO Ultra Wide & Slim. The RETO revival comes in five smashing colours (Charcoal, Cream, Murky Blue, Pastel Pink, and Muddy Yellow) and is available for pre-order.[7]UPDATE: The RETO UWS is now available through authorized dealers. Shipping by the end of February 2022 at the earliest, the RETO UWS sells for $29.99 + shipping.
Pros
ultra-wide 22mm lens
lightweight & pocketable
takes good photos
Cons
film winder prone to break with too much tension
film back is hard to open
Superheadz rubberized body becomes sticky & dirty over time
Personally, I own the Superheadz Ultra Wide & Slim: Blue Ribbon.[8]The Superheadz UWS was available in many colours, including the Black Slim Devil, White Slim Angel, Blue Ribbon, Yellow Peace, Pink Dress, Gold Harikin, and Silver Kumagin to name but a few. This camera has served me well and I have yet to break the film advance. Over time, its pristine rubberized plastic body became sticky with dirt and grime until I wiped it all away with antiseptic wipes — along with some of its original color, as you can see from the photos. The often impossibly hard to open film back has become less of a design flaw and more of an endearing quirk. But despite its minor flaws, I love this camera to the moon and back.
I've put many rolls of film through my Ultra Wide & Slim and have never had an issue. Given its f/11 aperture and 1/125 of a second shutter speed, my film of preference is Lomography Color 800. That gives me enough exposure latitude that I can shoot on both sunny and cloudy days or sometimes even indoors. But really, any 400 ISO film will do. I've even had some surreal results shooting Eastman Double-X 5222 on an incredibly bright sunny day. All that being said, I do not recommend slide film since its exposure latitude is quite narrow and it only comes in 50 or 100 ISO — that's much too slow to shoot successfully in the UWS on all but the brighest of days. Nor would I recommend expired film since you never know how it will perform. The UWS has no ISO control, so you can't bracket your shots. Therefore, it's best to stick with fresh film. I've shared many of my photos below to give you an idea of what this camera can do.
I've been wanting a second Ultra Wide & Slim for a while now to have as a backup in case I ever break the film advance and I can't think of a better time to buy one! I think I'll get a RETO UWS, but I haven't yet decided on the colour. It's going to be either the Charcoal or the Muddy Yellow.
And if I've convinced you that the Ultra Wide & Slim is a worthy camera to add to your collection, you'll find purchasing options below. I hope you'll enjoy it as much as I do!
Photos taken with the Superheadz Ultra Wide & Slim
Where to Buy the Ultra Wide & Slim
If you're looking to purchase an Ultra Wide & Slim, I would advise you to steer clear of eBay. The prices there are incredibly inflated and why spend that much when you can buy a new Ultra Wide & Slim for a lot less?
Here are three sellers you may want to consider:[9]I do not receive any sort of compensation for these recommendations. I'm listing them here simply as a courtesy.
Film Photography Store
The FPP is currently selling the Superheadz Pink Dress for $49.99 USD + shipping. For that price, you also get one randomly selected roll of film.
RETO
RETO is selling their own branded Ultra Wide & Slim for $29.99 USD + shipping.[10]NB: The shipping price automatically defaults to the cost to ship to Hong Kong (about $6) until you enter your address to get your true shipping cost. Shipping to N. America is $25. It comes in 5 designer colours and is available for pre-order now. Orders will begin shipping by the end of February 2022 at the earliest. UPDATE: The RETO UWS is now available through authorized dealers.
Jelly Lens
Jelly Lens is a brand owned by Sunpet Industries. For only $28 USD — and I believe that includes shipping — you can get the Jelly Lens Limited Edition UWS direct from the manufacturer. If you're not picky about the colour (it only comes in white), then this is the best deal.